About Musculoskeletal Rehabilitation
Exercise rehabilitation is a key element to long term pain relief and improved function after an injury. During the initial consultation the Functional Movement Screen will be performed which looks to assess the quality of movement patterns and highlight any weak links in the body. From this detailed assessment, a tailored rehabilitation program will be devised to rectify the biomechanical issues that lead to the injury occurring.
Sanchez Bredwood - Musculoskeletal Rehabilitation Specialist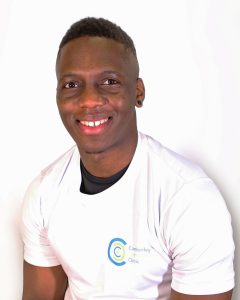 Sanchez was born in Hampshire and graduated in Strength & Conditioning in 2016. Sanchez has grown up around sport and has been part of an athletic team performing in county level sprint races since 2007. Sanchez originally became part of the chiropractic team after being a patient himself, due to various sporting injuries and developed a huge interest in rehabilitation. Sanchez has experience coaching athletes to improve sports performance, including being on a strict training plan himself!
Since working at the chiropractic clinic Sanchez has been studying and developing his skills in Functional Movement screening and manual muscle testing. This has helped him to better assess for any muscle inhibition that might be causing dysfunction in the body. By understanding a client's body better and how it is currently functioning he is able to tailor the rehabilitation programme and significantly improve the fundamental movement patterns.
Sanchez is also the Personal Trainer at the clinic. These sessions differ from rehabilitation because they are aimed at helping a client with things such as weight loss or lifting techniques etc. As such, these sessions better suit an individual who is already mechanically sound. His experience and training means that he is adaptive to a wide variety of clients with needs ranging from health and fitness to sport specific training and performance.
Outside of work Sanchez likes to watch movies, spend time at the gym, go out to eat, and have a sing along to his favourite tunes! 
© Camberley Chiropractic Ltd
Camberley Chiropractic Ltd offers Chiropractic and related services to Camberley and surrounding areas including Sandhurst, Bagshot, Lightwater, Crowthorne, Yateley, Frimley, Eversley, Hartley Wintney, Farnborough, Ash, Aldershot, Guildford & Wokingham