About Our Clinic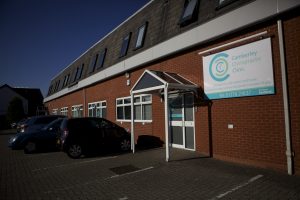 Camberley Chiropractic Clinic is the longest established Chiropractic clinic in the Camberley area. The clinic has undergone a number of changes over the past few years. The aim being to help patients not only get out of pain but improve their overall health. Ultimately, our goal is to empower patients to fully understand the problem(s) they have in their body. With this knowledge, they can then utilise the additional services we offer at the clinic to minimise the risk of future injury, increase sports performance and improve their health.
The clinic utilises some of the latest technology to enhance our diagnostic accuracy and improve patient care. These include a gait scanner to assess foot function issues that might be affecting a low back problem and Class IV Laser Therapy to aid the healing of acute injuries.

We are covered by all major health insurance companies and claim directly to Bupa and AXA PPP (excluding Simply Health) providing the excess has been paid and we are given a prior authorisation code. 
Confirmation Service
We provide a text or email reminder service on the day before your appointment to confirm your appointment time. Please note that we provide this as a reminder service only - should we not be able to speak with you, it is your responsibility to attend your appointment at the time agreed when it was originally booked. Should you wish to change your appointment, please inform us, before 9.00am on the day of your appointment, or ideally at least a day before. Should you change your appointment after 9.00am or miss it altogether, a charge of the full treatment fee shall be made to you. We do not wish to levy a charge to you, so please do all you can to ensure we don't. We want you to spend your money on treatment! If your treatment is covered by health care insurance (i.e. AXA PPP, BUPA), you would be responsible for the cancellation charge as your insurance company does not pay for missed appointments.
Clinic Opening Times
Monday - Friday:     8am - 7pm
Saturday:                   8am - 5pm
We are closed on Good Friday through to Easter Monday, and back open on Tuesday 3rd April at 8am. 
Class Timetable
| | Mon | Tue | Wed | Thu | Fri | Sat | Sun |
| --- | --- | --- | --- | --- | --- | --- | --- |
| 8:45 am | | | | | | | |
| 10:00 am | | | | | | | |
| 11:00 am | | | | | | | |
| 5:15 pm | | | | | | | |
| 6:00 pm | | | | | | | |
| 6:30 pm | | | | | | | |
Initial Examination              
Report of Findings               
New Problem                         
Subsequent Treatments      
X-Rays                                    
Bespoke Orthotics               
Initial Examination (Children under 13)
Subsequent Treatments Children under 13)
Chiropractic Pre-Payment Programs
Number of Treatments
10
12
15 (Family Package)
Cost Price
£370
£444
£555
10% Discount Price
£333.00
£399.60
£499.50
Saving
£37.00
£44.40
£55.50
Musculoskeletal Rehabilitation
Initial Consultation (1 hr)
Subsequent Sessions
£5 Per Class (£8 for 2 classes attended within the same week)
Personal Training 10 Sessions
Initial Consultation (90 minutes)
Subsequent Sessions
Mindfulness prices vary dependant on course.
Please contact the clinic for further information.
1-1 Class
Pre-Pilates (Introductory)
Subsequent Sessions
© Camberley Chiropractic Ltd
Camberley Chiropractic Ltd offers Chiropractic and related services to Camberley and surrounding areas including Sandhurst, Bagshot, Lightwater, Crowthorne, Yateley, Frimley, Eversley, Hartley Wintney, Farnborough, Ash, Aldershot, Guildford & Wokingham