About Chiropractic
Chiropractic is a primary healthcare profession that specialises in the diagnosis, treatment and management of musculoskeletal conditions that are due to mechanical dysfunction of the joints and muscles.
Within the U.K. Chiropractic is a statutorily-regulated profession via the General Chiropractic Council and should not be regarded as a treatment, intervention or mono-therapy. Chiropractors provide a wide range of treatments/interventions including, but not limited to, manual therapy, exercise rehabilitation and self-care advice. Chiropractic, like other healthcare professions, is informed by the evidence base and develops accordingly.
Chiropractic care is for everyone. Due to the wide range of treatment modalities employed at the clinic we will tailor your treatment to you. This is always based on the best available evidence, our extensive clinical experience and your personal preference.
James Everett - Chiropractor & Clinic Owner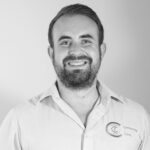 James Everett (Doctor of Chiropractic) was born in Surrey and graduated from the Anglo-European College of Chiropractic in Bournemouth with a Masters degree in Chiropractic. It was James' rugby injury, and subsequent experience with Chiropractic Care, that provided the catalyst for him to pursue a career as a Doctor of Chiropractic.
James became the owner of Camberley Chiropractic Clinic in 2015 having been an associate since 2009. Alongside his work within the clinic he is the first team Chiropractor at Millwall and AFC Wimbledon, having previously been chiropractor to the first team at QPR and Oxford United Football Club. Outside of football, James has treated the GB athletes at Masters Athletics Competitions both in the UK and in Europe.
James is an internationally Certified Chiropractic Sports Practitioner, and a member of the Royal College of Chiropractors Sports and Exercise Faculty. At present James is studying for a post - graduate Masters in sports and rehabilitation.
An area of special interest to James is how the feet can cause pain and dysfunction further up the body. He regularly uses a gait scanner unit, www.rightstride.com which is a metre long platform that can accurately assess a patient during walking. This information coupled with the physical examination findings allows custom orthotics to be moulded, which can help with heel, knee, hip and even low back pain.
Outside of chiropractic, he enjoys sports, (mainly weight lifting), keeping fit and agility training with his dog Jake.
Alex James - Chiropractor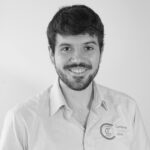 Alex James graduated from the AECC UC in Bournemouth (previously known as the Anglo-European College of Chiropractic) as a mature student. His journey into healthcare started after suffering from various gym related injuries; each time something felt amiss, he would go and see his local manual-therapist in the interest of finding out what had happened. This led him to take courses in sports massage, manipulative therapy and dry needling. From there he enrolled onto the AECC's access course and then spent the next 6 years working towards earning the title 'Doctor of Chiropractic'.
Prior to this, he spent many years working in the care industry within learning disability, mental health and young care leaver settings, giving him extensive experience in communicating with a wide range of people and further confirming that he wanted to pursue a people-based career. He is looking forward to taking a large number of post-graduate courses in order to both broaden his knowledge and help as many patients as possible.
In his spare time he can be found either at the gym or exploring forests as well as places to eat with his wife.
Alex is a member of the British Chiropractic Association and is registered with the General Chiropractic Council.
Emily Day - Chiropractor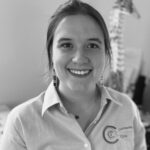 Emily graduated from the AECC UC in Bournemouth with a Masters degree in Chiropractic. She first became aware of chiropractic following a recommendation by her riding instructor as a teenager. Following her benefit from treatment and alongside her passion for working with and helping people, she decided to pursue a career in chiropractic.
During her time at university in Bournemouth, Emily undertook courses in both sports massage and dry needling. Emily also spent time on a paediatric placement providing an opportunity to work with midwives and lactation consultants. This sparked a growing passion for paediatric care which Emily is looking forward to developing as she attends post-graduate learning opportunities and courses. In addition to this, Emily has a great interest in many sports and enjoys furthering her understanding of different sports and their impact and demand on the human body.
Having grown up on a farm, Emily enjoys spending time outdoors walking and exploring new places. She is also a keen crocheter and can often be found attempting a new crochet challenge.
Gait Scanning
The use of the RS Scan pressure plate system allows for in depth biomechanical assessment of foot function during walking and running. This in depth analysis helps to better understand how the foot function might be affecting areas higher up the kinetic chain, such as the low back. This information can be vital for the proper development of a tailored, patient centred, treatment plan. If part of that treatment plan requires the addition of orthotics in the shoes, then the information obtained from the scan provides important information as to how they should be moulded.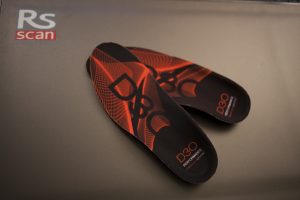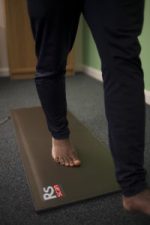 Shock Wave Therapy
Extracorporeal Shock Wave Therapy (ESWT) is the application of Shock Waves in medicine.
It is clinically proven that pressure waves, when applied to injured tissues, stimulate metabolic reactions:
Reduction of pain felt by nerve fibers
Increase of blood circulation in surrounding soft tissues
Beginning of healing process triggered by stem cells activation
Red chili peppers contain capsaicin. At first this substance overwhelms the C nerve fibers responsible for transmitting pain but then disables them for an extended period of time. Everybody knows the feeling – first, the mouth is on fire, then it feels completely numb.
Research has indicated that shock wave therapy works the same way. When activated, the C nerve fibers release a specific substance (substance P) in the tissue as well as in the spinal cord. This substance is responsible for causing slight discomfort during and after shock wave treatment. However, with prolonged activation, C nerve fibers become incapable for some time of releasing substance P and causing pain.
Less substance P in the tissue leads to reduced pain, but there is more: less substance P also causes so-called neurogenic inflammation to decline.
A decline in neurogenic inflammation may in turn foster healing – together with the release of growth factors and the activation of stem cells in the treated tissue.
ESWT has been clinically proven to be effective for conditions such as: Calcific tendinitis of the shoulder;  Plantar fasciitis; Achilles tendinopathy;  Golfer's elbow;  Tennis elbow and more!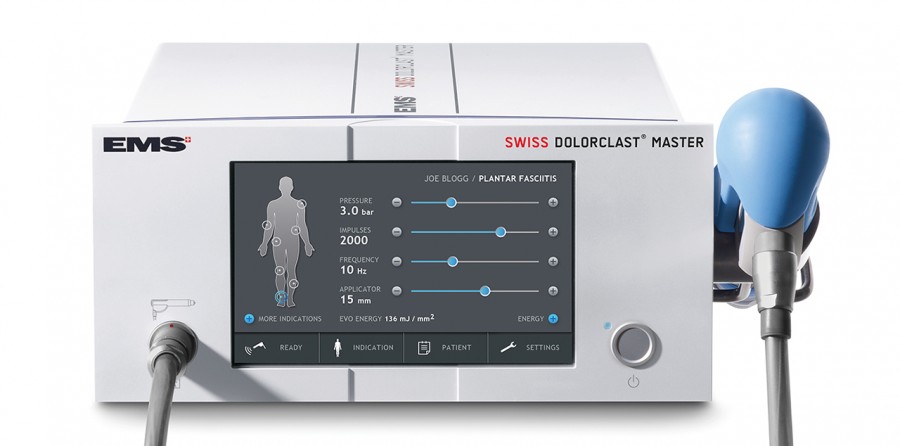 Laser is a form of Photobiomodulation therapy. This can result in beneficial therapeutic outcomes including but not limited to the alleviation of pain or inflammation, immunomodulation, and promotion of wound healing and tissue regeneration.
The fundamental principles that underpin photobiomodulation (PBM) therapy, as currently understood in the scientific literature, are relatively straightforward. There is consensus that the application of a therapeutic dose of light to impaired or dysfunctional tissue leads to a cellular response mediated by mitochondrial mechanisms that reduce pain and inflammation and speed healing.
WINBACK Tecartherapy
Discover Winback Tecartherapy for enhanced treatments and lasting results.
Better pain management. Faster recovery. Gentler patient experience.
Therapeutic Applications:
Joint Paint
Sciatica
Rheumatism
Sprains
Muscle Contractures
Lumbago
Tendinopathies
Heavy Leg
The TECAR Winback current is a dynamic high frequency current ranging from 300 kHz to 1 MHz.
According to Dr. D'Arsonval's principle, the TECAR current causes a flow of ions through rapid electrical oscillations in the cellular environment. This induces an increase in intra- and extracellular exchanges and a diathermic effect on living tissue.
The effects of the TECAR current:
Biostimulation at the cellular level

Pain relief

Diathermy
Tecartherapy can be given by your Chiropractor and/or your Sports Therapist.
Not only does Tecartherapy treat aches, pains and injuries but it can provide a relaxing, no evasive, age reducing skin facial treatment. READ MORE on our Tecar Facial Treatment page.
Rock Taping
Unlike traditional athletic tape that binds and doesn't stretch, RockTape is engineered to mimic the human skin. This stretchiness is the secret behind RockTape. RockTape stretches up to 180% of its original length but has amazing 'snap-back' or recovery. This is what gives RockTape its performance advantage over other tapes.
RockTape can be used in a variety of ways to achieve different benefits: When RockTape is applied with little or no stretch on the tape but lots of stretch on the tissue it causes the skin to form convolutions and wrinkle. This creates a bio-mechanical lifting mechanism that decompresses the tissue just under the skin. It is believed that this decompression and having tape on our skin creates 3 main effects:
Fluid Effect: By causing decompression the tape promotes a more normal fluid dynamic in the taped area. Swelling is better able to flow out of the area, taking with it toxins which result from inflammation and injury. Also blood has less resistance to enter the area bringing with it more oxygen and nutrients vital for healing and recovery. This fluid effect is probably behind the dramatic improvement in swollen and bruised tissue that is often seen when Rocktape is applied.
Mechanical Effect: As pressure on the vertical layer cake of tissue between skin and bone is reduced more normal slide and glide mechanics between the layers of tissue is restored. It is likely that this is the mechanism that can make someone who can only bend as far as their knees, bend considerably more in a short space of time.
Neurological Effect: A lot of pain generated by movement or muscle contraction is generated by nerve endings in the space between the skin and muscle. As tape decompresses this space there is less pressure on these nerve endings so is reduced or stopped completely at its source. Having elastic tape stuck to your skin is also believed to stimulate receptors within the skin called Mechanoreceptors. These receptors play a part in our movement awareness, or what therapists call Proprioception. Many therapists believe that one of the main effects of applying RockTape is to improve our Proprioception, which can both decrease pain and improve the way we move.