Covid-19 - Our Policies and Procedures
We are open to all patients as usual as advised by The British Chiropractic Association
Keeping all of our patients and the CCC team safe is our utmost priority whilst we provide urgent care to those in need.
We have made several changes to the way we work to ensure that our clinic is as COVID-secure as possible. We are working in line with current guidelines as outlined by Public Health England and the British Chiropractic Association.
Patients are now spaced out sufficiently to avoid cross over and allowing more time for cleaning of the clinic.
What PPE can I expect my Chiropractor to wear?
A designated chiropractor will be available to see patients with appropriate PPE and regularly sanitising traffic areas throughout the day. In line with advice given by Public Health England, the PPE used will be:
A mask (sessional use)
An apron (single use)
Gloves (single use)
Your Chiropractor will also be disinfecting treatment areas after every patient.
What responsibilities do I have as a patient when coming into clinic?
Updated 24/11/21
All patients must complete a quick COVID-19 pre-screening questionnaire at the point of an appointment being made and again before admittance into the building. Forehead temperature taken via a non-contact infra-red thermometer, on the day of your appointment, is a pre requisite of the treatment commencing. This process will be adhered to before EVERY visit you have in the coming months.
Please do not enter Portland House, your Chiropractor will come out to the car park to meet you just before your treatment time. This will avoid patients crossing over with other patients.
Unless absolutely necessary, please do not bring family members into the building. E.g. Children and carers. Children must stay with their parent at all times.
No one will be allowed to wait in the Reception area.
We request all patients wear a mask. If you do not have one, you can purchase one from the clinic for £1.
We are only accepting card payments at this time. Please use contactless payments if possible, noting that £45 is the limit for contactless payments.
Please use the hand sanitisers available on entrance and on exit to the clinic.
How do I make an appointment? 
You can call the clinic on 01276 21637, or email us reception@camberleychiropractic.co.uk to make a booking.
Can I speak to my Chiropractor?
For patients who need to speak to their Chiropractor, please book a video or telephone consultation.
If you have any questions or concerns please email us reception@camberleychiropractic.co.uk.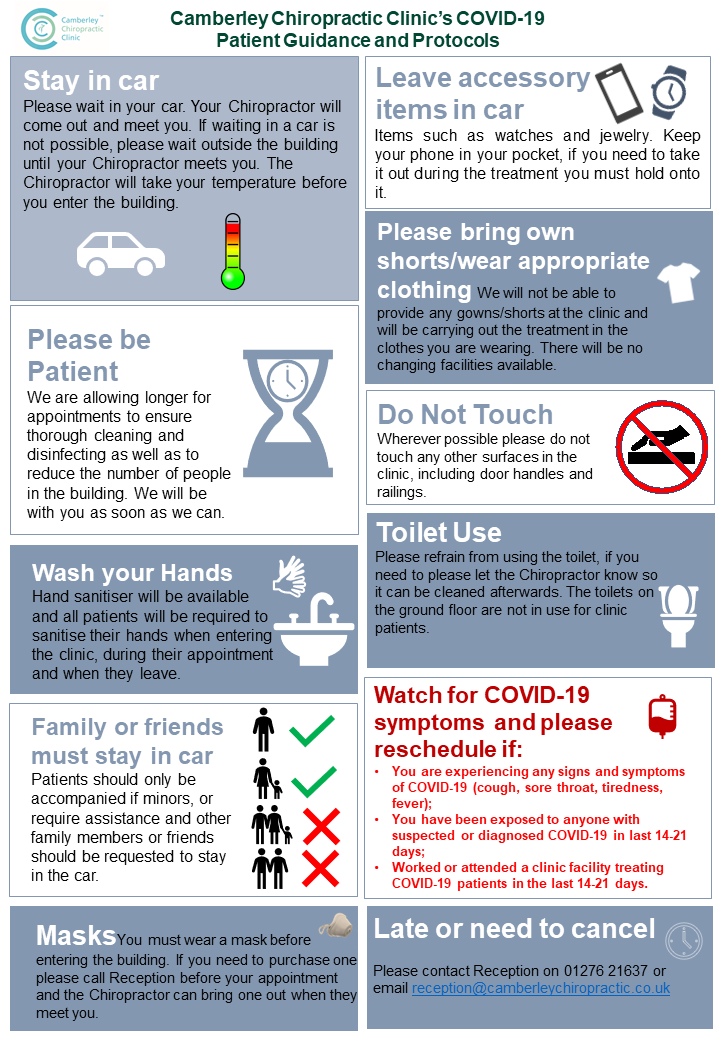 © Camberley Chiropractic Ltd
Camberley Chiropractic Ltd offers Chiropractic and related services to Camberley and surrounding areas including Sandhurst, Bagshot, Lightwater, Crowthorne, Yateley, Frimley, Eversley, Hartley Wintney, Farnborough, Ash, Aldershot, Guildford & Wokingham