About Chiropractic
Chiropractic is a primary healthcare profession that specialises in the diagnosis, treatment and management of musculoskeletal conditions that are due to mechanical dysfunction of the joints and muscles.
Within the U.K. Chiropractic is a statutorily-regulated profession via the General Chiropractic Council and should not be regarded as a treatment, intervention or monk-therapy. Chiropractors provide a wide range of treatments/interventions including, but not limited to, manual therapy, exercise rehabilitation and self-care advice, and utilise psychologically-informed programmes of care. Chiropractic, like other healthcare professions, is informed by the evidence base and develops accordingly.
Chiropractic care is for everyone. Due to the wide range of treatment modalities employed at the clinic we will tailor your treatment to you. This is always based on the best available evidence, our extensive clinical experience and your personal preference.
James Everett - Chiropractor & Clinic Owner
James Everett (Doctor of Chiropractic) was born in Surrey and graduated from the Anglo-European College of Chiropractic in Bournemouth with a Masters degree in Chiropractic. It was James' rugby injury, and subsequent experience with Chiropractic Care, that provided the catalyst for him to pursue a career as a Doctor of Chiropractic.
James became the owner of Camberley Chiropractic Clinic in 2015 having been an associate since 2009. Alongside his work within the clinic he is the first team Chiropractor at AFC Wimbledon, having previously been chiropractor to the first team at QPR and Oxford United Football Club. Outside of football, James has treated the GB athletes at Masters Athletics Competitions both in the UK and in Europe.
James is an internationally Certified Chiropractic Sports Practitioner, and a member of the Royal College of Chiropractors Sports and Exercise Faculty. At present James is studying for a post - graduate Masters in sports and rehabilitation.
An area of special interest to James is how the feet can cause pain and dysfunction further up the body. He regularly uses a gait scanner unit, www.rightstride.com which is a metre long platform that can accurately assess a patient during walking. This information coupled with the physical examination findings allows custom orthotics to be moulded, which can help with heel, knee, hip and even low back pain.
Outside of chiropractic, he enjoys sports, (mainly weight lifting), keeping fit and agility training with his dog Jake.
Prab Chandhok - Chiropractor
Prab Chandhok (Doctor of Chiropractic) was born in South-West London and graduated in 2001 from the Anglo-European College of Chiropractic in Bournemouth with a Masters degree and awarded the Doctor of Chiropractic. He joined the Camberley Chiropractic Clinic in 2004 after practicing in London.
Prab is an internationally certified chiropractic sports practitioner and has worked with a variety of athletes and sporting injuries in all age groups. He is a Fellow of the Royal College of Chiropractors (RCC), a committee member of their Sport and Exercise Faculty and was honoured to have been selected to serve on the medical team as a chiropractor for the London 2012 Olympic Games. He thoroughly enjoyed providing care to some of the best athletes from around the world as part of the historic, landmark team of chiropractors to first officially serve at a summer Olympics.
He is certified in chiropractic care during pregnancy and in paediatrics and also trained in Western form of acupuncture/dry needling for musculoskeletal pain. He has been elected as a council member for the British Chiropractic Association and is an advisory committee member for the Chiropractic Patients Association. In his spare time, Prab enjoys flying gliders and scuba diving when possible.
Grant Munro - Chiropractor
Grant worked as a scaffolder after completing his A-levels, and was introduced to chiropractic after sporting and work related injuries. Impressed with the effective results, Grant decided to enrol with the Welsh Institute of Chiropractic; graduating with a distinction and awards for both Clinician and Graduate of the Year.
Since graduating he has completed numerous courses centred on finding and correcting a client's primary cause for complaint using an integrated approach with muscle testing, utilising Functional Range Release™ soft tissue systems and working towards becoming an Internationally Certified Chiropractic Sports Practitioner. Grant is also the only chiropractor in the UK utilising the Structural Joint Balancing system. "I really enjoy working with challenging cases - not only helping people out of pain but excelling in to better health and performance - which is why I'm really looking forward to working in a multi-disciplinary practice with James and the team at Camberley Chiropractic Clinic." Outside of work Grant enjoys being outdoors, live music, boxing and most recently playing golf (poorly!).
Laura Purssell - Chiropractor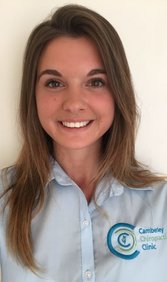 Laura graduated from the Anglo-European College of Chiropractic (AECC) in Bournemouth with a BSc (Hons) in Human Sciences and a Masters degree in Chiropractic. Having always had a passion for health and caring for others, Chiropractic seemed a natural career choice. Laura is a member of the British Chiropractic Association and is registered with the General Chiropractic Council.
Although Laura has a genuine interest in treating people of all ages, she has developed a special interest towards paediatrics and pregnancy and has treated patients as young as 5 days old! During her time at the AECC, Laura worked alongside student midwives to provide effective ways to help mothers establish successful breastfeeding, which involved examining the newborn baby for any musculoskeletal issues. Laura also worked at a satellite clinic at Bournemouth University to provide treatment for athletes with sporting injuries, as well as a wide range of musculoskeletal disorders the students and members of staff presented with.
In her spare time, Laura enjoys keeping fit in the gym and playing netball, having captained the Bournemouth University team, and socialising with her friends and family!
Gait Scanning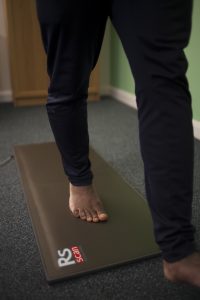 The use of the RS Scan pressure plate system allows for in depth biomechanical assessment of foot function during walking and running. This in depth analysis helps to better understand how the foot function might be affecting areas higher up the kinetic chain, such as the low back. This information can be vital for the proper development of a tailored, patient centred, treatment plan. If part of that treatment plan requires the addition of orthotics in the shoes, then the information obtained from the scan provides important information as to how they should be moulded.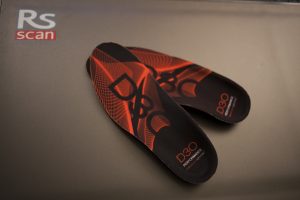 X-Raying
When imaging with X-rays, an X-ray beam produced by a so-called X-ray tube passes through the body. On it's way through the body, parts of the energy of the X-ray beam are absorbed. This process is described as attenuation of the X-ray beam. On the opposite side of the body, detectors or a film capture the attenuated X-rays, resulting in a clinical image.
The digital X-Rays we have at the clinic certainly do not form a major part of our diagnostic process, however, if clinically indicated by the patient history and physical exam they are a fast way in which we rule out or rule in a diagnosis. 
Laser is a form of Photobiomodulation therapy. This can result in beneficial therapeutic outcomes including but not limited to the alleviation of pain or inflammation, immunomodulation, and promotion of wound healing and tissue regeneration.
The fundamental principles that underpin photobiomodulation (PBM) therapy, as currently understood in the scientific literature, are relatively straightforward. There is consensus that the application of a therapeutic dose of light to impaired or dysfunctional tissue leads to a cellular response mediated by mitochondrial mechanisms that reduce pain and inflammation and speed healing.
Rock Taping
Unlike traditional athletic tape that binds and doesn't stretch, RockTape is engineered to mimic the human skin. This stretchiness is the secret behind RockTape. RockTape stretches up to 180% of its original length but has amazing 'snap-back' or recovery. This is what gives RockTape its performance advantage over other tapes.
RockTape can be used in a variety of ways to achieve different benefits: When RockTape is applied with little or no stretch on the tape but lots of stretch on the tissue it causes the skin to form convolutions and wrinkle. This creates a bio-mechanical lifting mechanism that decompresses the tissue just under the skin. It is believed that this decompression and having tape on our skin creates 3 main effects:
Fluid Effect: By causing decompression the tape promotes a more normal fluid dynamic in the taped area. Swelling is better able to flow out of the area, taking with it toxins which result from inflammation and injury. Also blood has less resistance to enter the area bringing with it more oxygen and nutrients vital for healing and recovery. This fluid effect is probably behind the dramatic improvement in swollen and bruised tissue that is often seen when Rocktape is applied.
Mechanical Effect: As pressure on the vertical layer cake of tissue between skin and bone is reduced more normal slide and glide mechanics between the layers of tissue is restored. It is likely that this is the mechanism that can make someone who can only bend as far as their knees, bend considerably more in a short space of time.
Neurological Effect: A lot of pain generated by movement or muscle contraction is generated by nerve endings in the space between the skin and muscle. As tape decompresses this space there is less pressure on these nerve endings so is reduced or stopped completely at its source. Having elastic tape stuck to your skin is also believed to stimulate receptors within the skin called Mechanoreceptors. These receptors play a part in our movement awareness, or what therapists call Proprioception. Many therapists believe that one of the main effects of applying RockTape is to improve our Proprioception, which can both decrease pain and improve the way we move.
© Camberley Chiropractic Ltd
Camberley Chiropractic Ltd offers Chiropractic and related services to Camberley and surrounding areas including Sandhurst, Bagshot, Lightwater, Crowthorne, Yateley, Frimley, Eversley, Hartley Wintney, Farnborough, Ash, Aldershot, Guildford & Wokingham