About Nutrition
Your body's performance and optimal functioning can be directly affected by what you eat. Food is your body's fuel and is broken down to make all of the raw materials that are required to make your body work, hence the phrase 'You are what you eat.' If you lack good quality fuel your body will struggle to function properly and this could cause a reduction in overall health, an increase in your vulnerability to infections, an increase in your healing time from injuries, as well as create a wide range of other health problems. Nutritional therapy aims to promote optimum health and treating disease through a diet of organic, whole foods, as well as natural supplements.
Diane Stephenson - Nutritional Therapist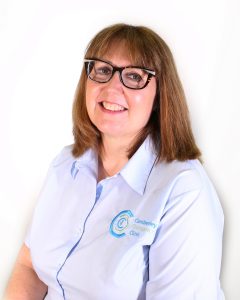 Having been a senior manager for a multinational company I understand only too well the nature of stress and deadlines, eating badly, working late and feeling permanently exhausted.
I graduated from the renowned Institute for Optimum Nutrition and am a fully qualified and insured Nutritional Therapist, a member of the British Association for Applied Nutrition & Nutritional Therapy (BANT) the professional body for Nutritional therapists and registered with the Complementary Natural Healthcare Commission (CNHC), the UK regulator for complementary healthcare practitioners. I'm also a member of the Institute for Functional Medicine and as a Functional Medicine practitioner I spend time with my clients, listening to their histories and looking at the interactions among genetic, environmental, and lifestyle factors that can influence long-term health and complex, chronic disease.
New Patient Nutrition Questionnaire PDF
© Camberley Chiropractic Ltd
Camberley Chiropractic Ltd offers Chiropractic and related services to Camberley and surrounding areas including Sandhurst, Bagshot, Lightwater, Crowthorne, Yateley, Frimley, Eversley, Hartley Wintney, Farnborough, Ash, Aldershot, Guildford & Wokingham