About Sports Massage
Sports Massage is the management and rehabilitation of soft tissues of the body including muscles, tendons and ligaments. It is applicable not just to sports people but to anybody wishing to guard against or recover from a soft tissue injury.
Sports Massage may:
Improve circulation and lymphatic flow

Assist in the removal of metabolic waste

Sedate or stimulate nerve endings

Increase or decrease muscle tone

Increase or decrease muscle length

Remodel scar tissue when required
You do not need to be an athlete to benefit from Sports Massage. The benefits above can also help relieve many day to day problems such as repetitive strain injuries, sprains, tension and fatigue that everyone experiences. Our Sports Massage Therapists work with a great range of clients in assisting with preventive treatment and injury recovery.
Tammy Davis - Sports Masseuse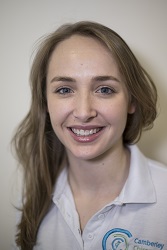 Tamsin studied Sport and Exercise Sciences at the University of Birmingham. She continued afterwards to follow her passion for athletic development at Nottingham Trent University, where she trained to become a Strength and Conditioning Coach with the University teams. During her training she discovered her passion for injury rehabilitation and corrective exercise. Tamsin now does personal training and sports massage full time.
Hayley Shilson - Sports Masseuse
I have studied massage in various forms from Basic Swedish, Aromatherapy and Sports Therapy. I have also studied other forms of complimentary therapy. I started off my health and wellbeing studies with Reflexology in 1999 and have just added to my learning over the years.
Neil Shilson - Sports Masseuse
I qualified in sports therapy in 2009, since then I have studied additional modalities including kinesiology/sports taping. I have also gained a vast amount of experience supporting the Bracknell Rugby team for 6 seasons working with the team Doctor.  I look forward to welcoming you at the Clinic if in need of a deep tissue massage or to aid in healing a sports injury.
© Camberley Chiropractic Ltd
Camberley Chiropractic Ltd offers Chiropractic and related services to Camberley and surrounding areas including Sandhurst, Bagshot, Lightwater, Crowthorne, Yateley, Frimley, Eversley, Hartley Wintney, Farnborough, Ash, Aldershot, Guildford & Wokingham